2 Pcs Couple Smart Flash Jewelry Totwoo
2 Pcs Couple Smart Flash Jewelry Totwoo
REMIND YOUR FRIEND THAT SHE IS THE ONE, EVEN FROM MILES AWAY:
Whether you are miles apart or side by side, touch the bracelet and the other bracelet will light up. She/he will know you're thinking of him/her.

💑Design concept: Bracelet symbolizes our common determination and belief. It is as indestructible as mountains and seas. Even thousands of miles apart, after long-distance Bracelet pairing (remote connection), touching each other's bracelet will flash in the application. You can also customize the flashing color.
💑 Remote touch: no matter how far away it is, if one party touches the bracelet, the jewelry of the other party will flash. Give him / her this love bracelet, let him / her feel that I am always by your side, and the distance is inseparable from us. Imagine how sweet it is when they see this bracelet and the special message you send.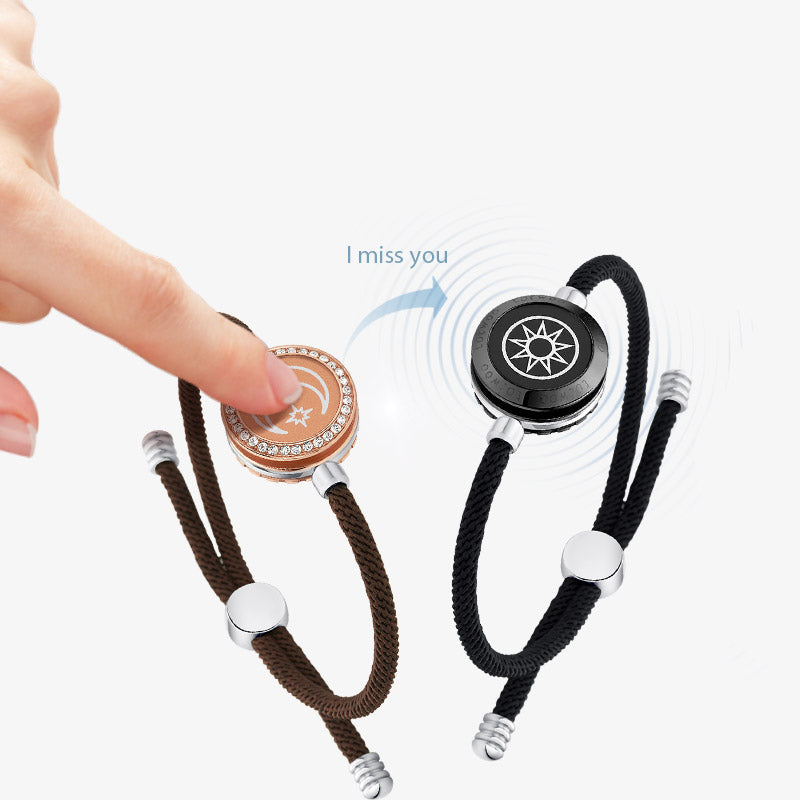 💑 Reminder function: when the long-distance touch bracelet is connected to the mobile phone, you can set various reminders so that you won't miss any important information. Telephone reminder, lucky day reminder, aunt reminder, anniversary reminder (this model has no vibration).
Unlock More
Daily Horoscope: Check your lucky day.
Period Reminders: Your Smart Flash Jewelry will flash when receiving period notifications.
Yes or No Decisions: Tap your Smart Flash Jewelry twice to make decisions
💑Create Surprise Message: Store sweet picture, video, audio, and text in the jewelry to share it to your partner, your partner can touch the jewelry to see the precious memory.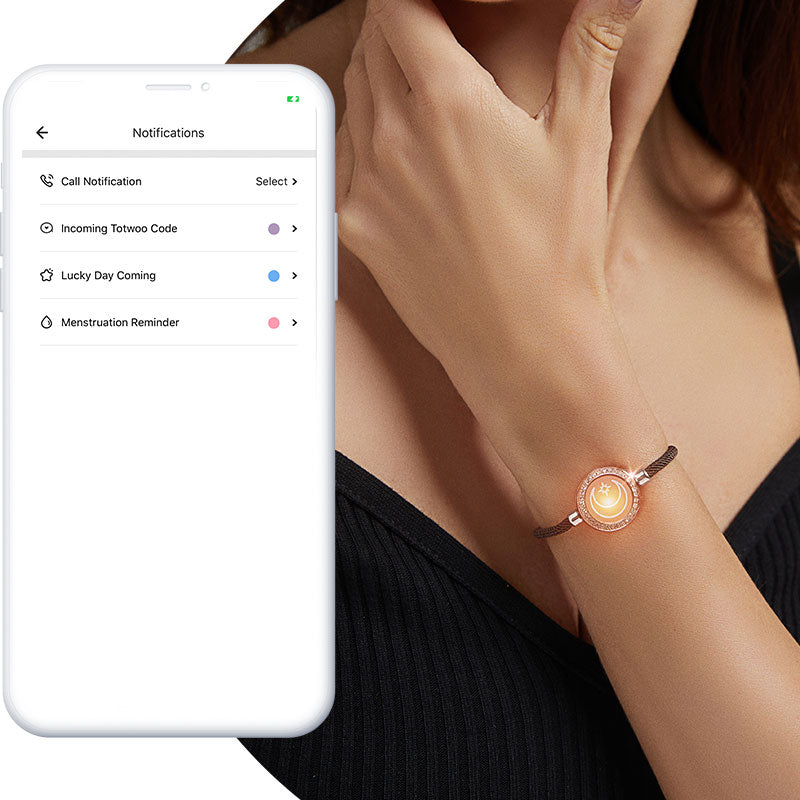 💑

How does the ''Smart Flash Jewelry Bracelets'' work?
To send and receive touch messages,

you just need to download

the
Totwoo app on your Android or iOS smartphone. Make sure you have a
stable internet connection (4g or Wifi)、 enable Bluetooth and keep your
phone within 10 feet of your bracelet. Then, send a request to pair with
your loved one's Totwoo bracelet via the app to start sending touches!
SPECIFICATION

:
Color: BLACK & BROWN - RED & BLACK
Material: Titanium Steel
Girth: 16-36cm/6.30-14.17in
Quantity: 2pcs
WHAT'S INCLUDED ??
Packaging & accessories
You will receive : 
02 Smart Flash Jewelry-Totwoo long-distance bracelets in the gift bag. 
Button Battery * 6 (CR1225)
User Manual*2